service design  |  user research  |  workshop facilitation

CLIENT:

Barnardo's children's charity


BRIEF:

How can we respond to increasing requests for online counselling services?
Barnardo's had seen an increase in requests, from commissioners, for online counselling services. With the majority of Barnardo's services provided offline, and face-to-face, I was asked to look at how the organisation should respond to these requests.
Whenever a brief implies a solution – particularly when it's right at the beginning of a project - I like to start by unpacking that solution. Instead of asking how Barnardo's should respond to requests for online counselling services I felt we needed to instead be asking if and why we should respond at all.

Like any good service, Barnardo's number one priority is to provide an excellent service to the people who use it. In this case that is children and young people and the service they receive can be life changing. So, what benefit would online counselling have for children and young people and which of their needs would it meet?

As well as this question I also set about asking and find out:
-  What (largely offline) mental health support do we offer now?
-  What challenges do we face with providing our existing models of support?
-  Are we looking for a digital solution to fill the gaps of existing offline provision?
-  ...Or are we looking to build on and enhance existing services?
-  Can we fill the gaps whilst also enhancing our offer?
-  What do we even mean by online counselling? Is it a drop-in service in the form of an instant messenger or 'live chat' or are we talking about providing an continuous package of support e.g. counselling appointments via video conference. 

The last question opened up more questions including: what do the people asking for these services and those tasked with delivering them mean by 'online'? Is this simply about providing non-face to face support? Is it about building something new or utilising existing tools and technology?

And even when all of the above questions have been answered, is Barnardo's best placed to deliver an online counselling service?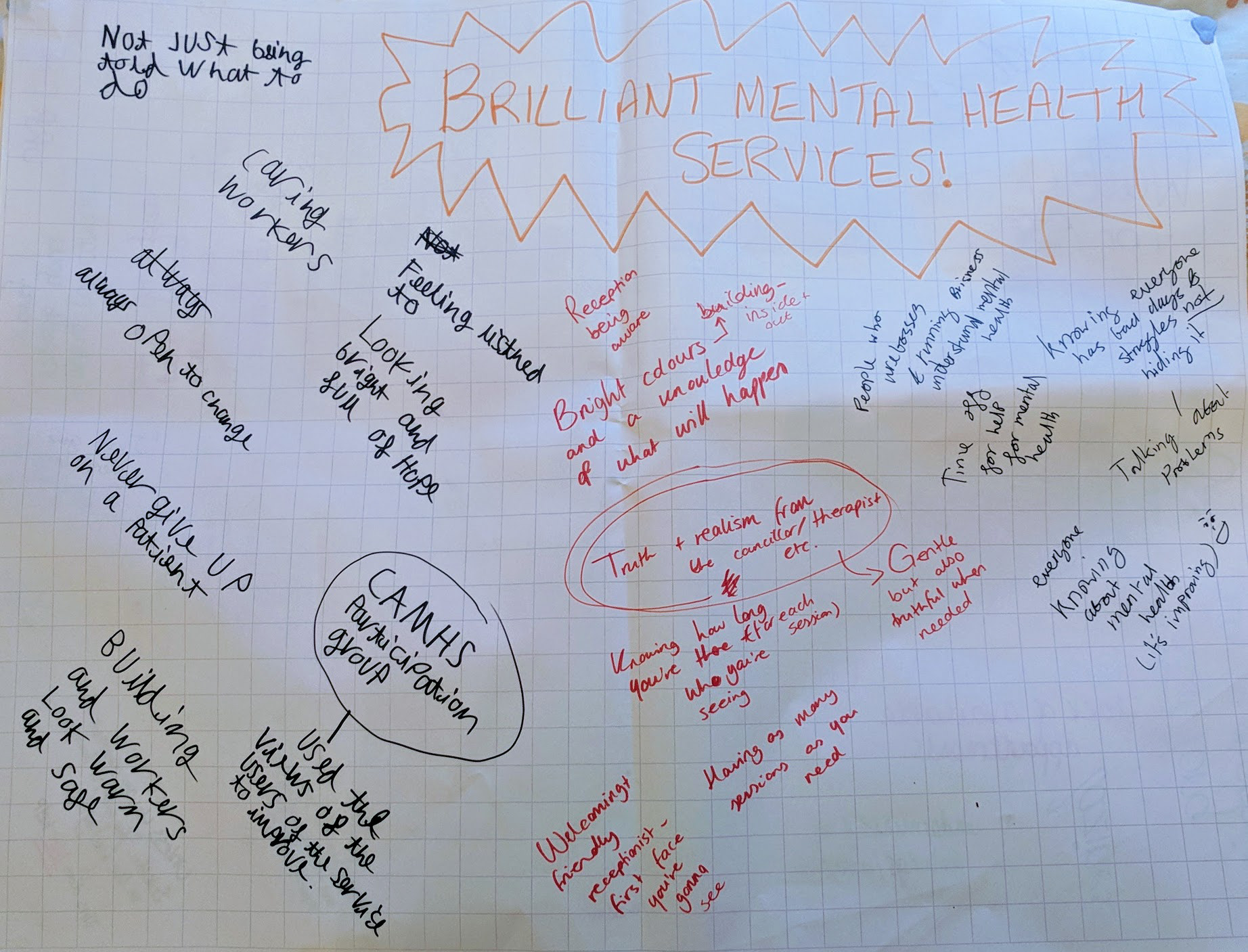 After identifying and speaking to stakeholders I listed the assumptions of the project including the potential motivations of those making the requests. Here are a few of those assumptions or, as we like to call them in the service design world, hypotheses*:
-

Online support is cheaper than face-to-face support


-

Online support can reach more young people


-

Young people prefer online support because they can be anonymous


-

Young people have nobody to talk to 'out of office hours'.​​​​​​​
User research and co-creation
To unpack some of these assumptions and grasp what the users needs for digital mental health support are (if any) I ran a series of workshops with both young people and Barnardo's frontline staff. I also paired up with another colleague, who was undertaking user research with commissioners, to better understand what was driving their requests for online counselling. 
I spoke to forty young people between the ages of 13 and 22. I also spoke to 19 frontline staff members including counsellors, volunteers and service mangers.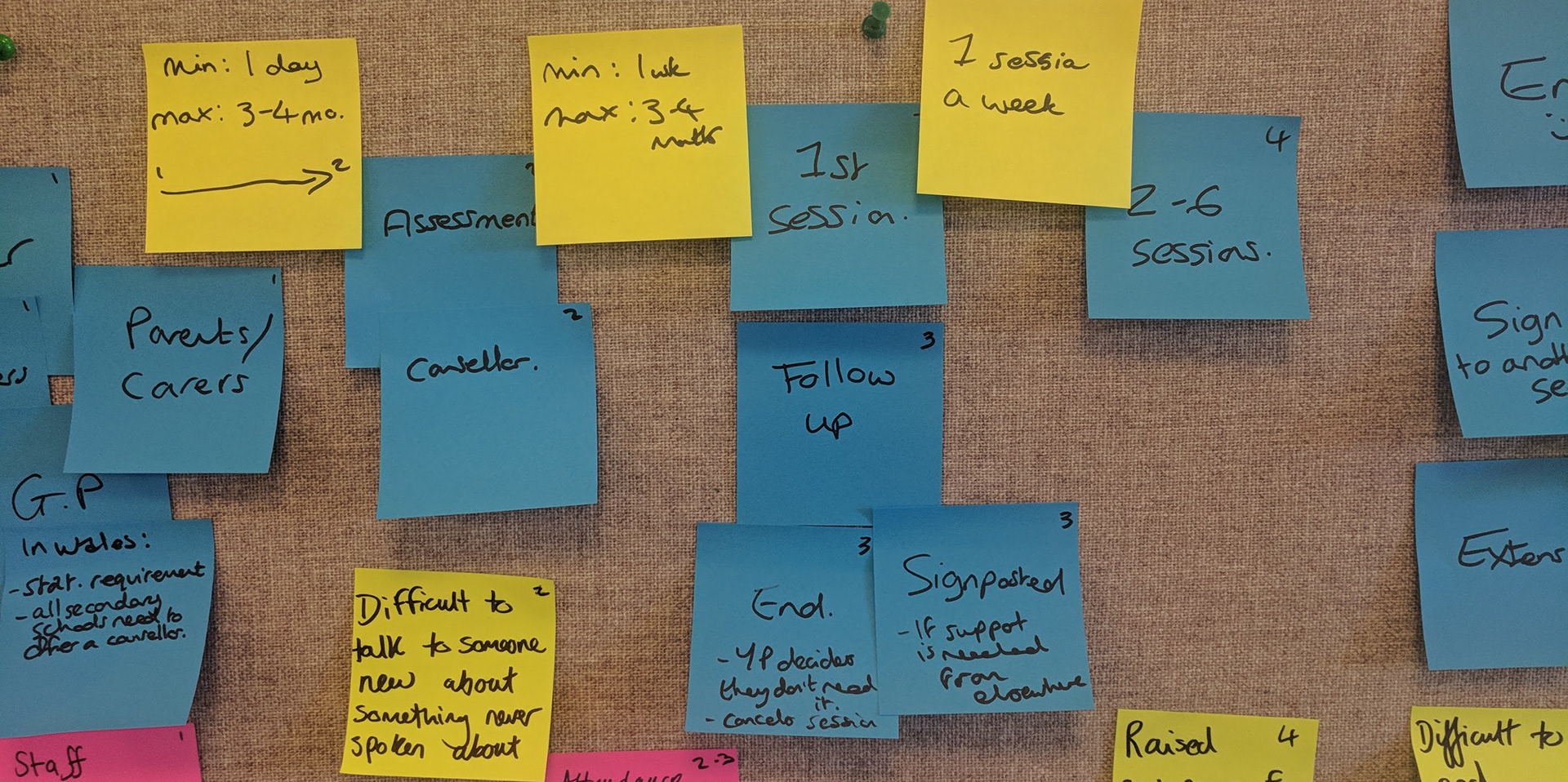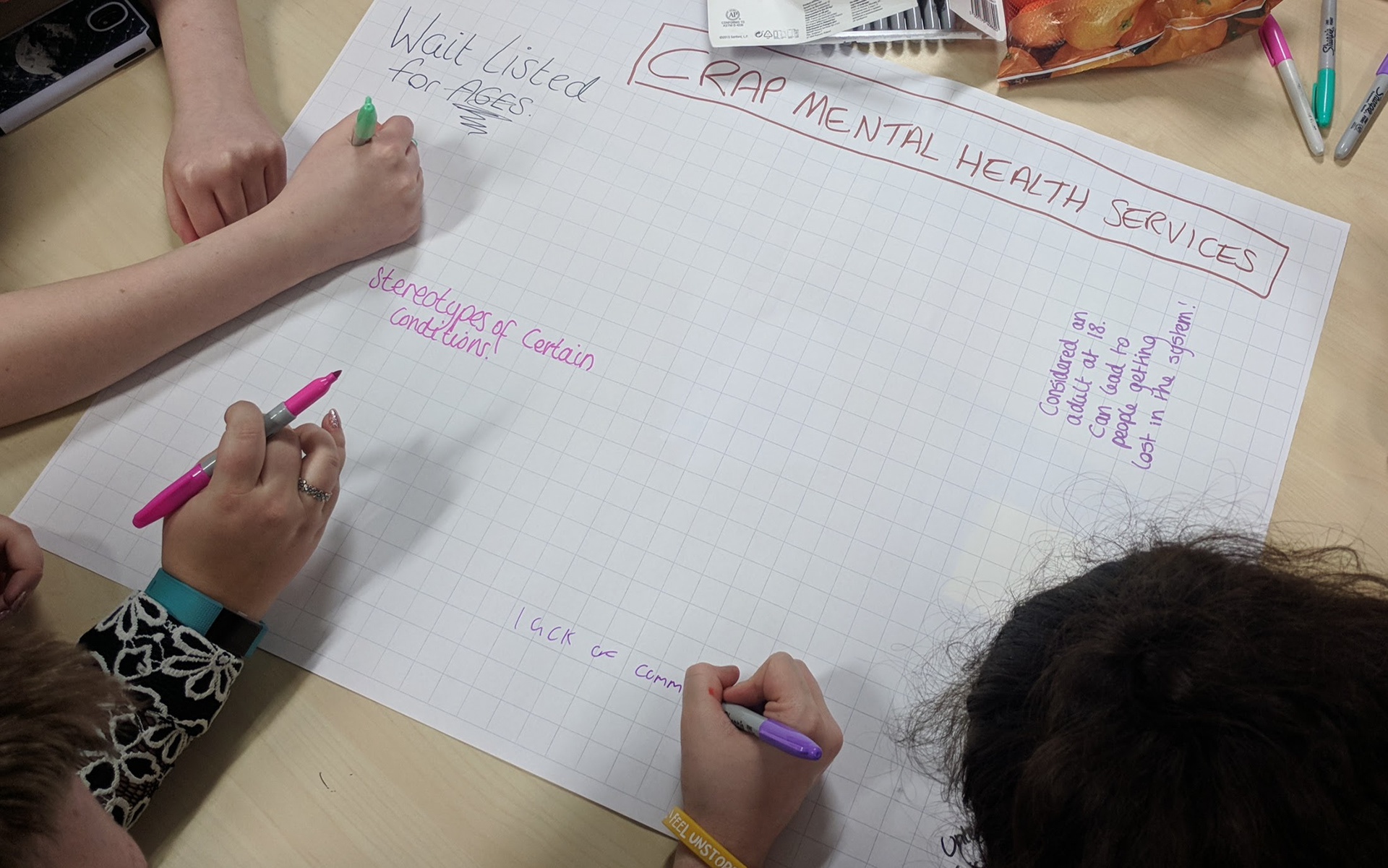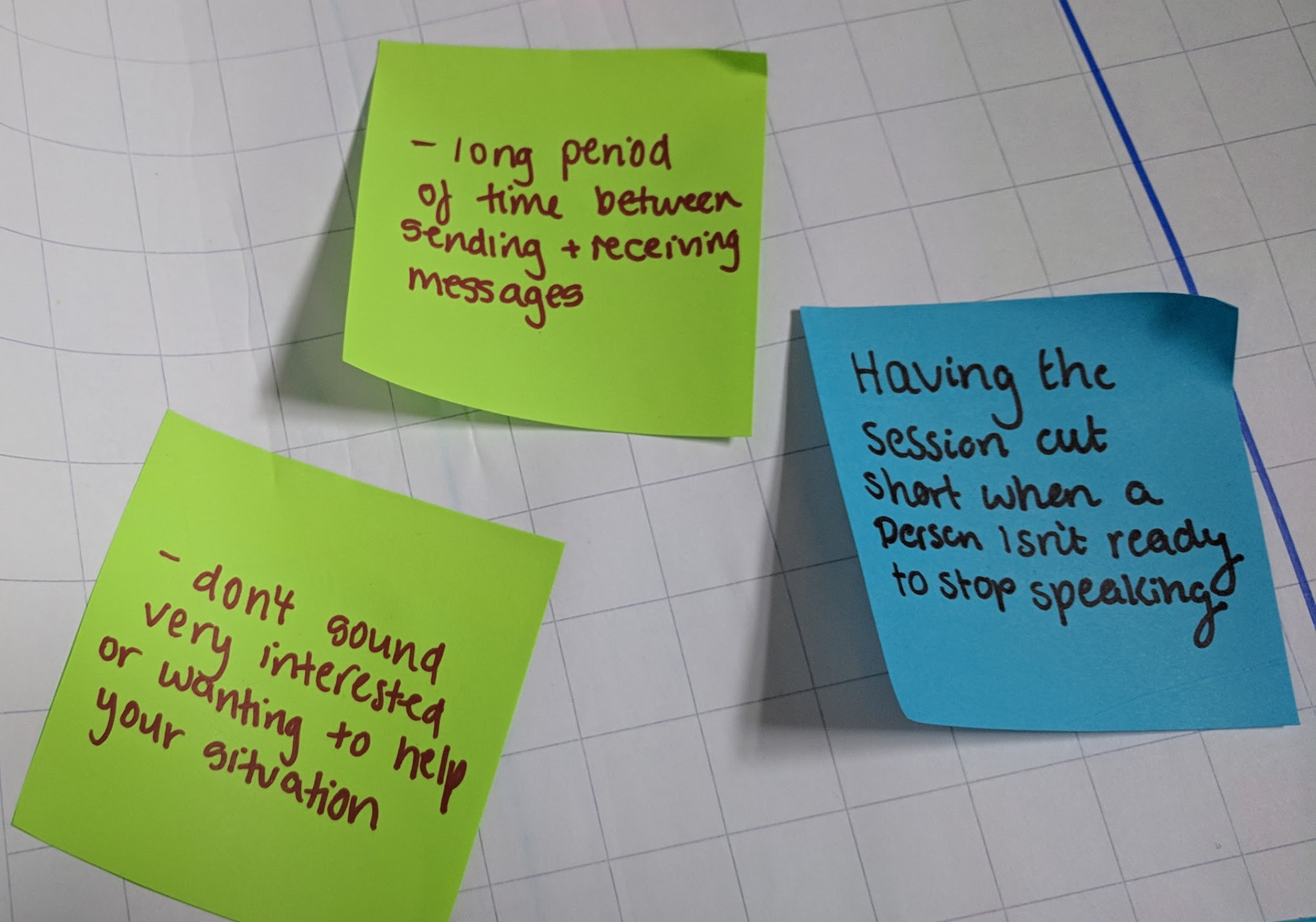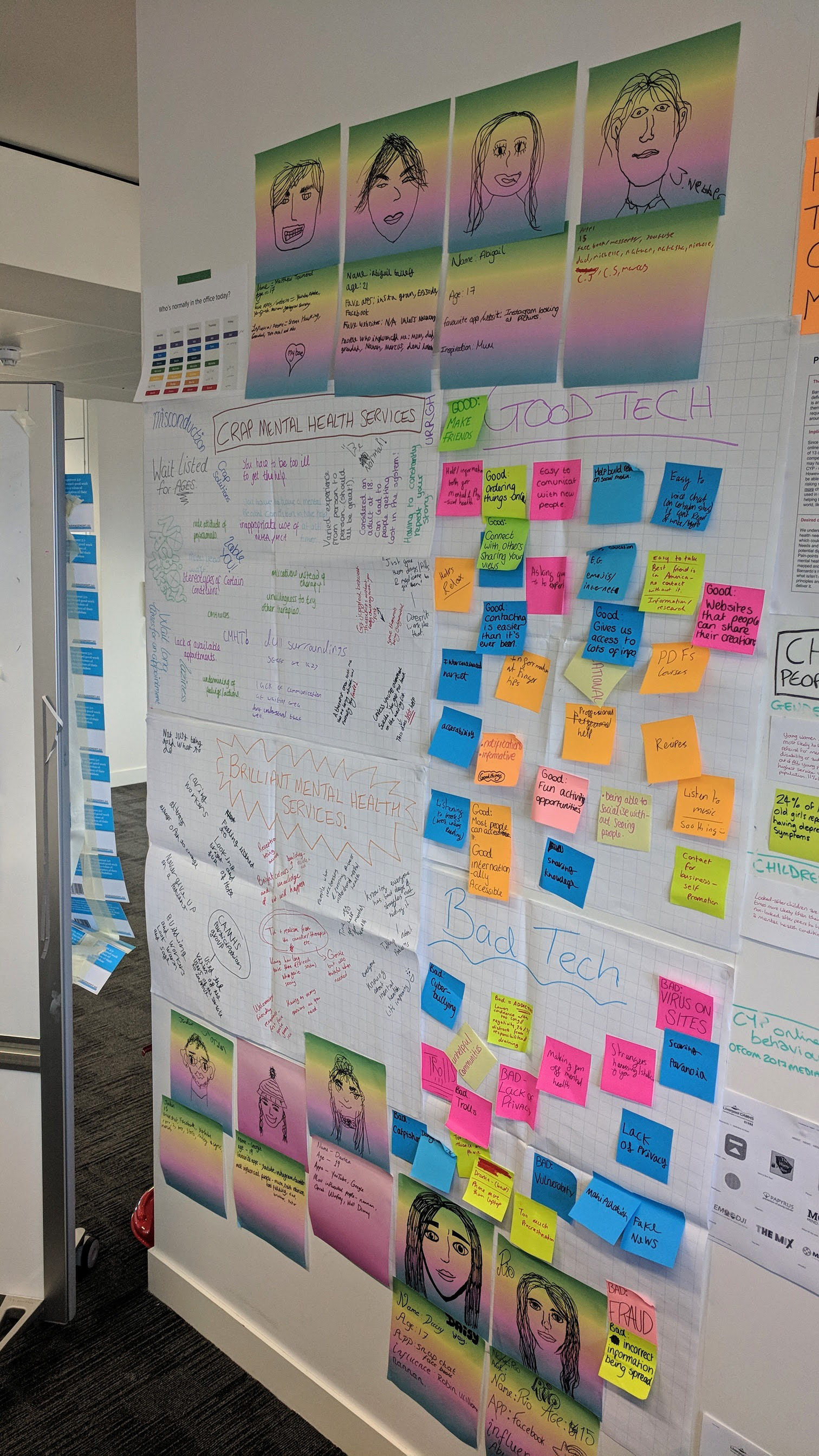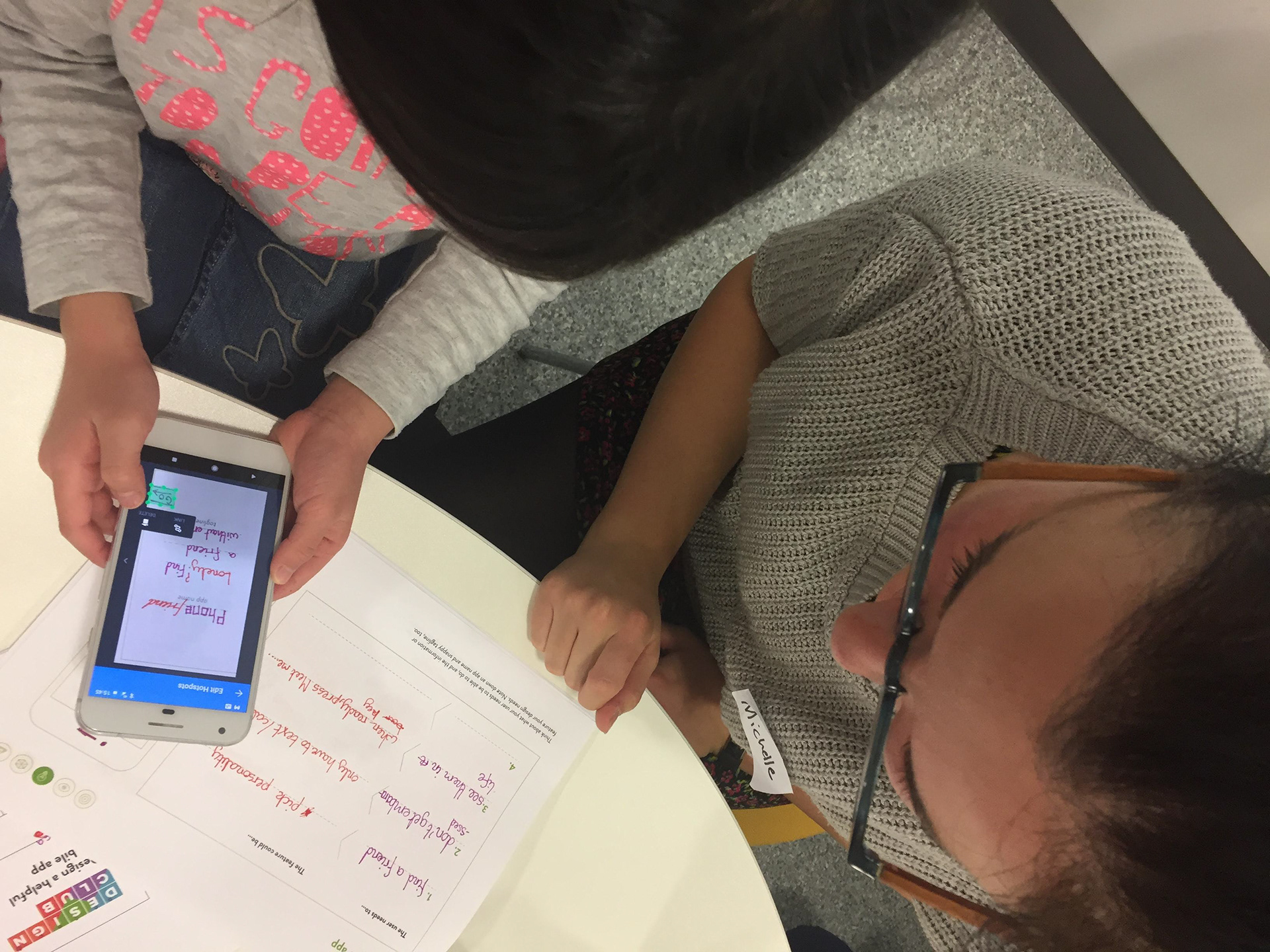 Below is a summary of two of the findings from this project. For client confidentiality reasons I cannot share more than this but I am happy to discuss my approaches to projects like this, in more detail, if you are interested in working with me.
I ran several workshops with young people to find out what they would expect from an online mental health service e.g. a website or an app. While online counselling, or 'live chat', was mentioned it was mentioned less often than:


Advice

– the young people I spoke to described advice and guidance as being the first step to getting support.


Where to get help

– contact details of relevant local organisations, helplines or online support.
And they wanted a digital service to be:


Welcoming

– designed with bright colours, a mixture of content (video and images as well as text).


Reassuring

– they liked seeing stories and testimonials from other young people.


Upbeat

– As one young person put it, "it's depressing enough when you're low so you don't want to see things that are depressing and are going to make you feel worse. Having games and jokes will help take your mind off it."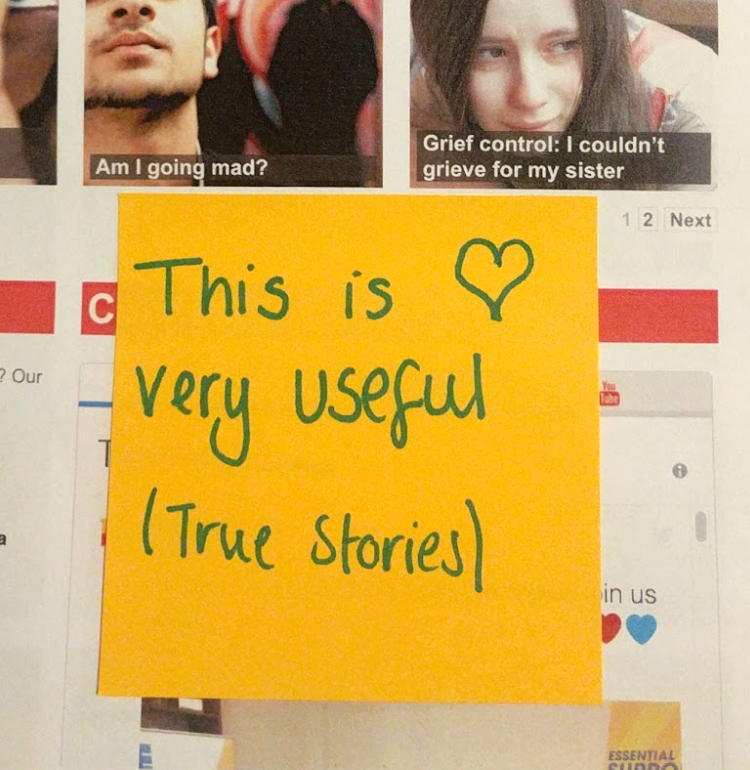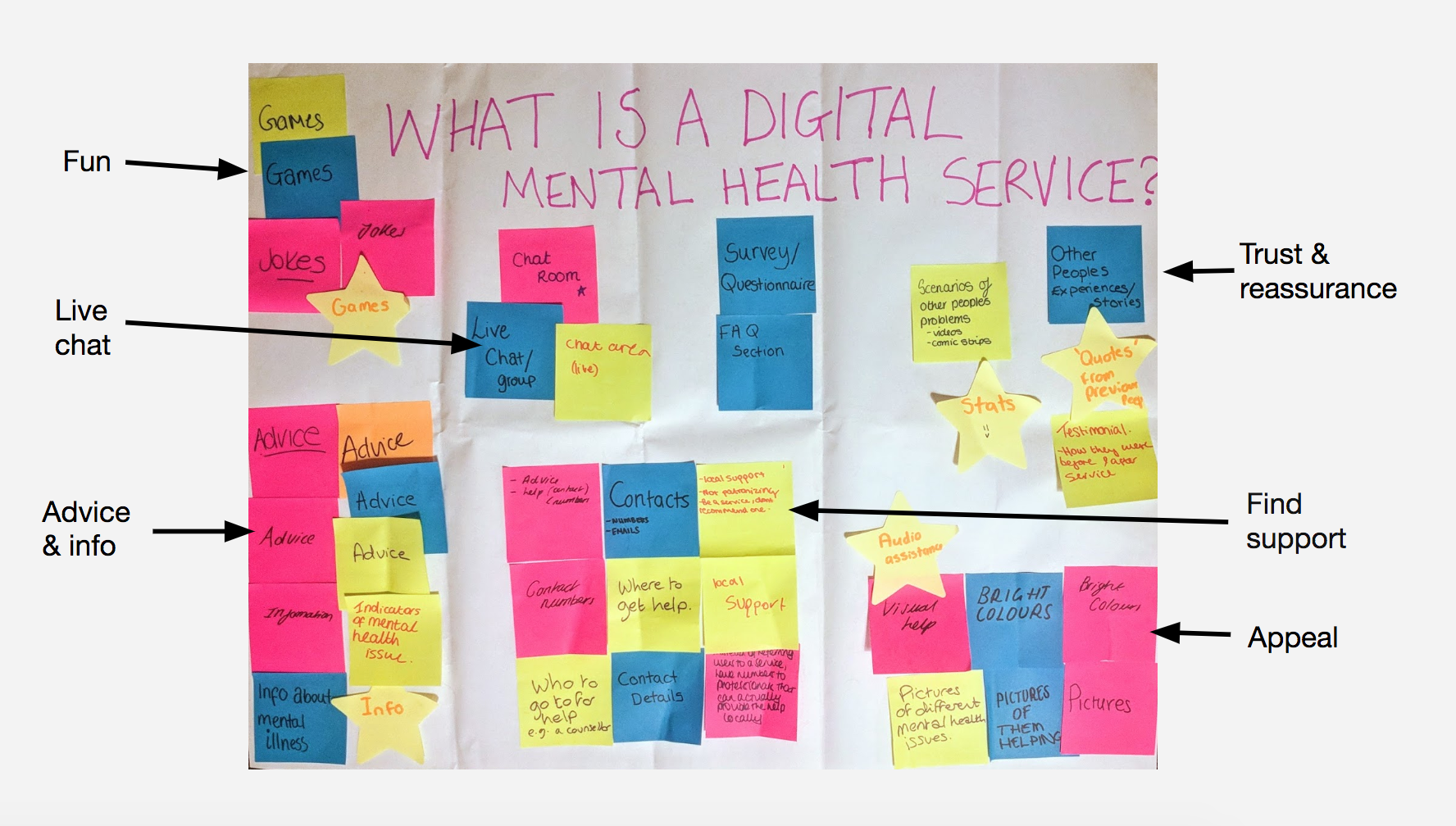 All of the young people I spoke to felt that any offline mental health service should have, as a minimum, a web page with further information about the service. Ideally this would include photos from inside the services, biographies of staff and testimonials from other young people who had used the service.
The most common reasons for seeking support online, as opposed to offline, were:
-  It can be accessed at anytime
-  It can be accessed from anywhere
-  It is easier than speaking to somebody in person
-  It enables them to communicate and express themselves in different ways e.g. typing rather than talking, emojis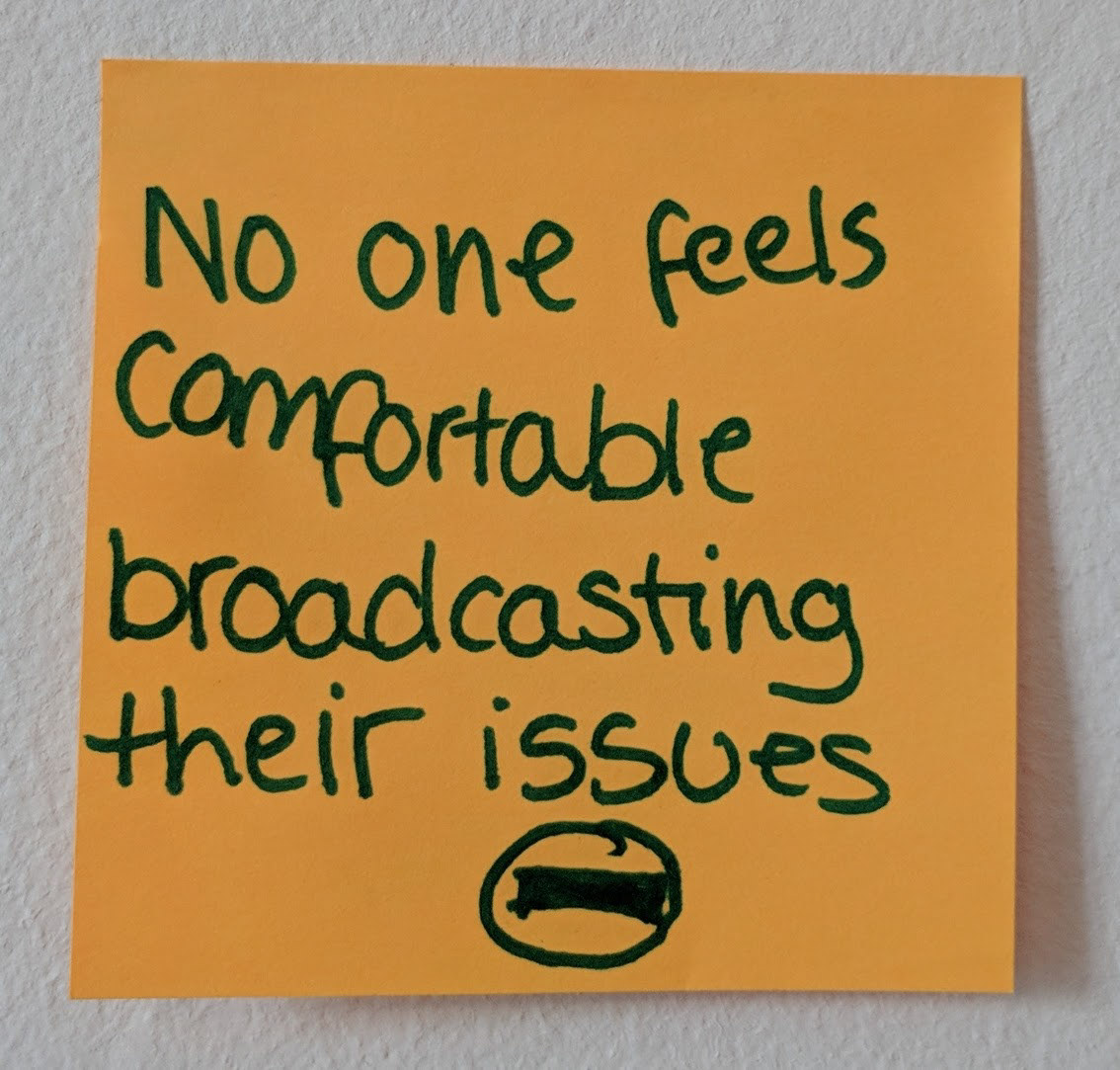 Many of the young people I spoke to said they would go online to search for support and advice if they were looking for help (whether online or offline) with their mental health or an issue that was impacting their mental health e.g. exam stress of bullying. At the same time many young people reported online bullying, "drama" and "negativity" as some of the worst things about the internet. They talked about feeling overwhelmed by the amount of information available and worried about "fake news". 
One of the largest fears - mentioned in most of the groups I ran workshops with - was that somebody they knew might identify them (e.g. through a comment or on a forum) and share it with others.
"I found my own ways of coping in the meantime by accessing online support but I was exposed to a lot of negative websites in the process."
"I like that you can post questions but it shouldn't show your name. My name is quite unusual - someone could go on there and know it was me that wrote it... They could then screenshot it."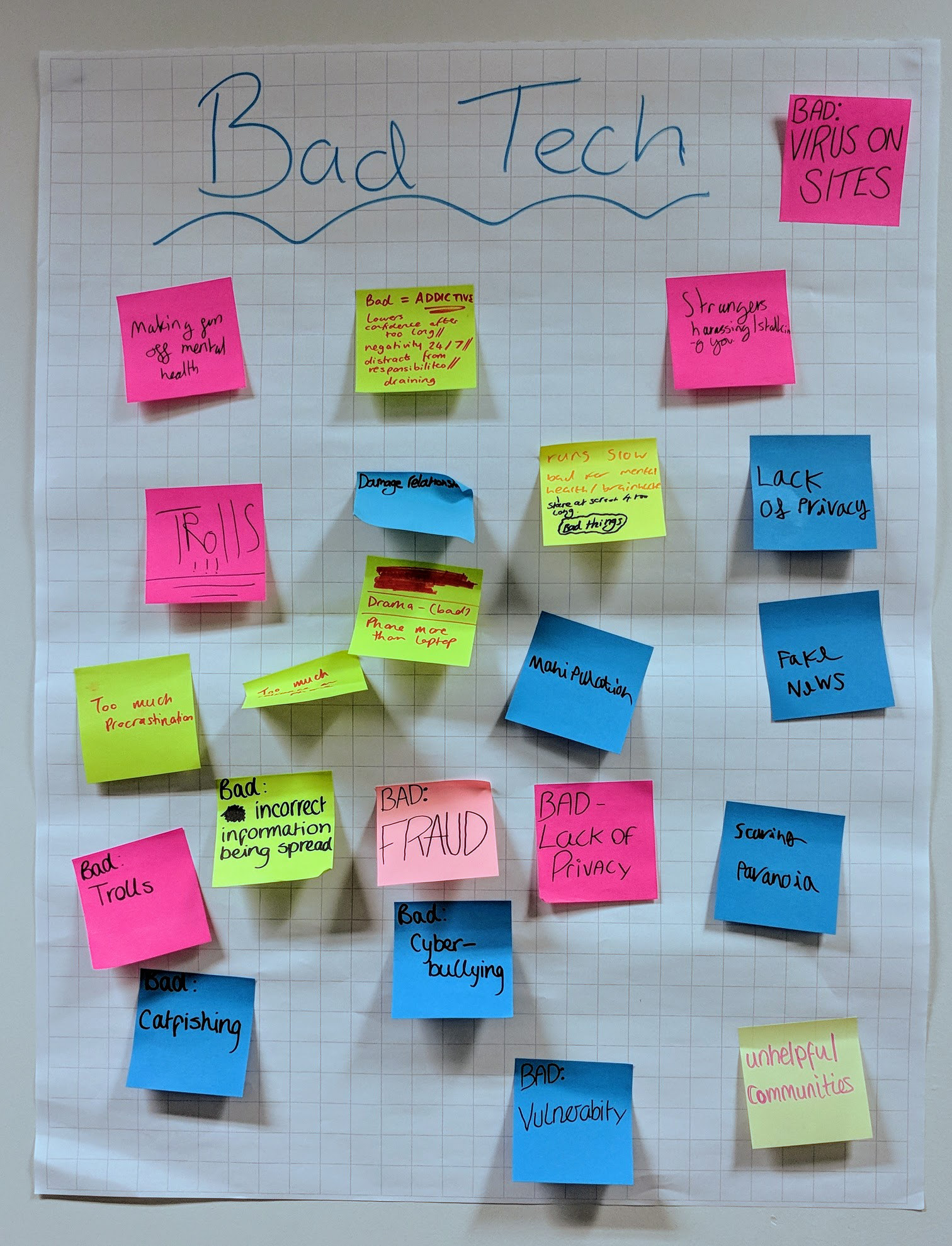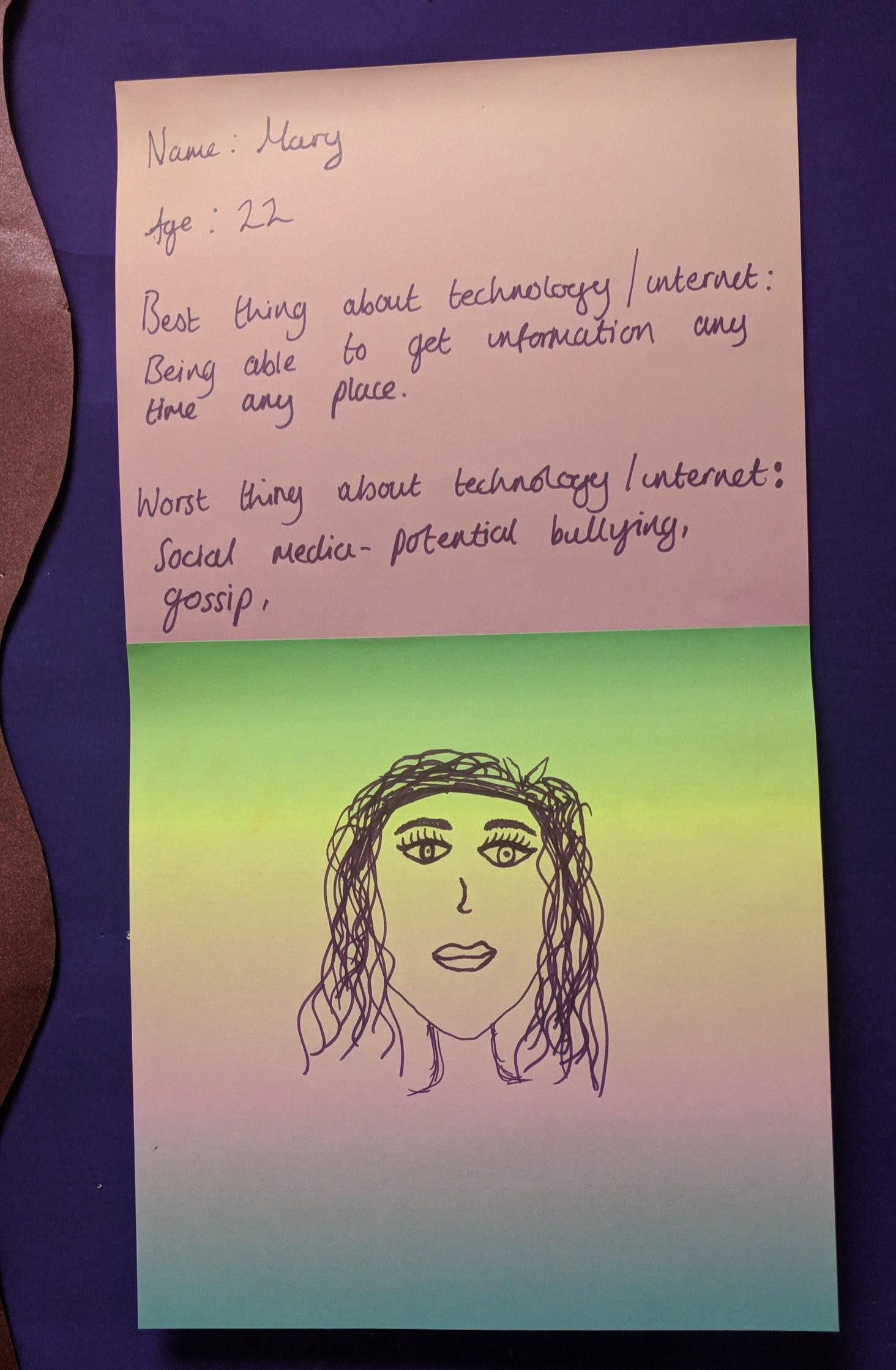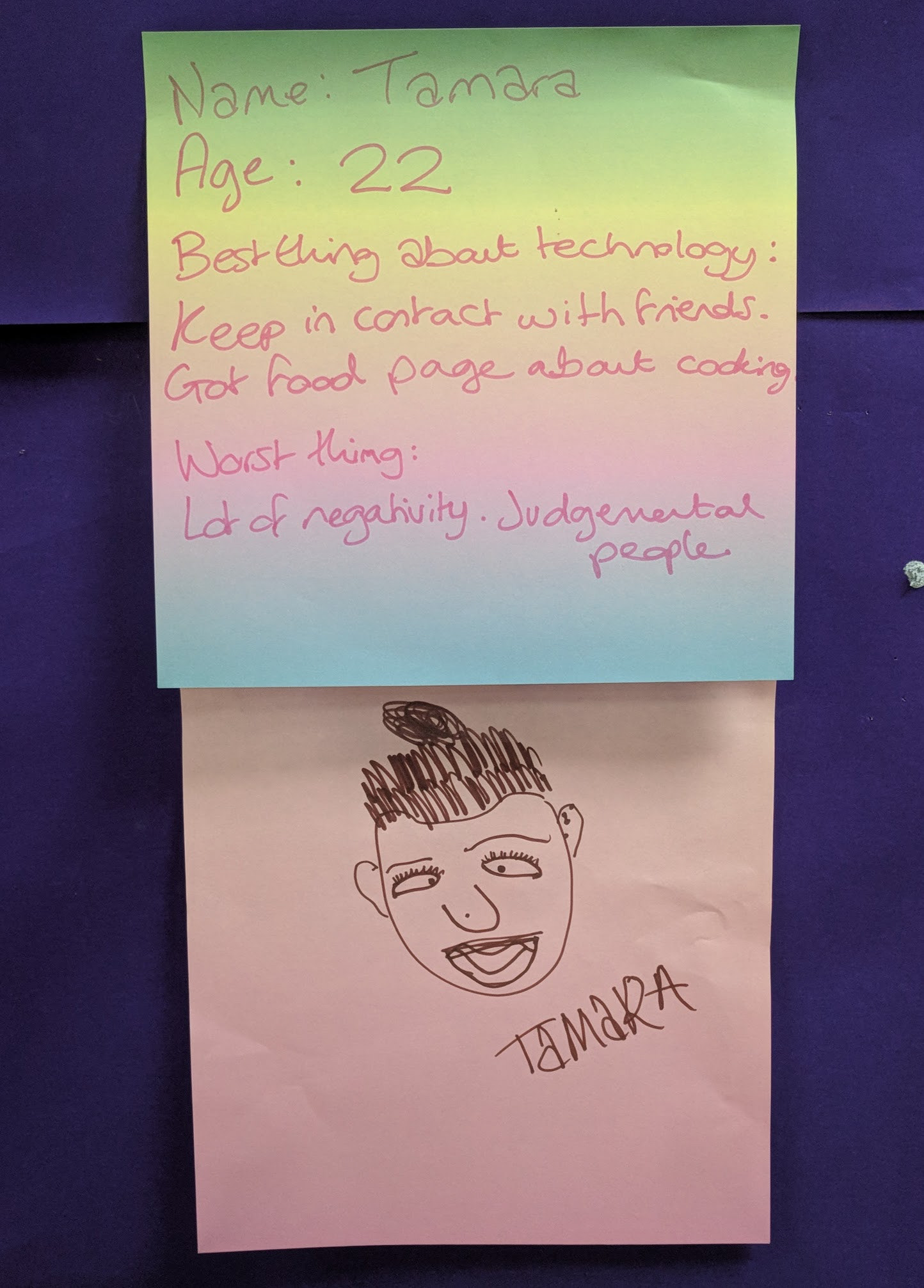 For client confidentiality reasons I cannot share the recommendations I made to Barnardo's.
At the end of my project I shared my research with internal stakeholders. 
Key deliverables included: 


- Two hour workshop with main stakeholder group to discuss findings, recommendations and next steps.
- Research deck
- Personas and empathy maps based on some of Barnardo's existing service users and the young people I spoke to.
- 'Show and tell' presentation to the rest of the organisation.
- Photos and quotes from workshops, which can be used in future reports and when responding to business development opportunities.