user experience  |  service design  |  product management 

GOAL: anybody can easily find out how much they spend on public transport in London
...
Transport for London is at the front of the queue when it comes to embracing emerging technologies. From its pioneering approach to opening up its data - with regular call-outs to developers to tackle issues such as helping wheelchair users find accessible stations - to the contactless ticketing tech that's now being shipped around the globe... The T in TfL could easily stand for 'technology'.
However, while navigating the network and even paying for transport has become easier, or at least there's more ways to do so, knowing how much we're spending seems to have missed the boat (yes, TfL do boats too!). The pandora's box of literally thousands of fare combinations (zones, peak times, capping, hopping!), mixed messaging around the value of contactless vs oyster, warnings about 'card clash', and frustrating online experiences are leaving many of us without a clue how much we spend on public transport in London. The goal of this project was to try and rectify that.
To help me get a better understanding of how many people have trouble understanding how much they're spending on travel I started with some research... With only three days to complete the whole task my first port of call was to create an online survey.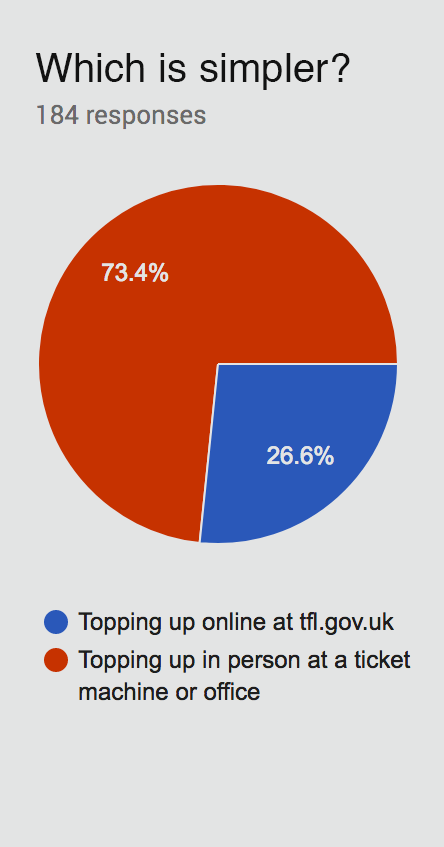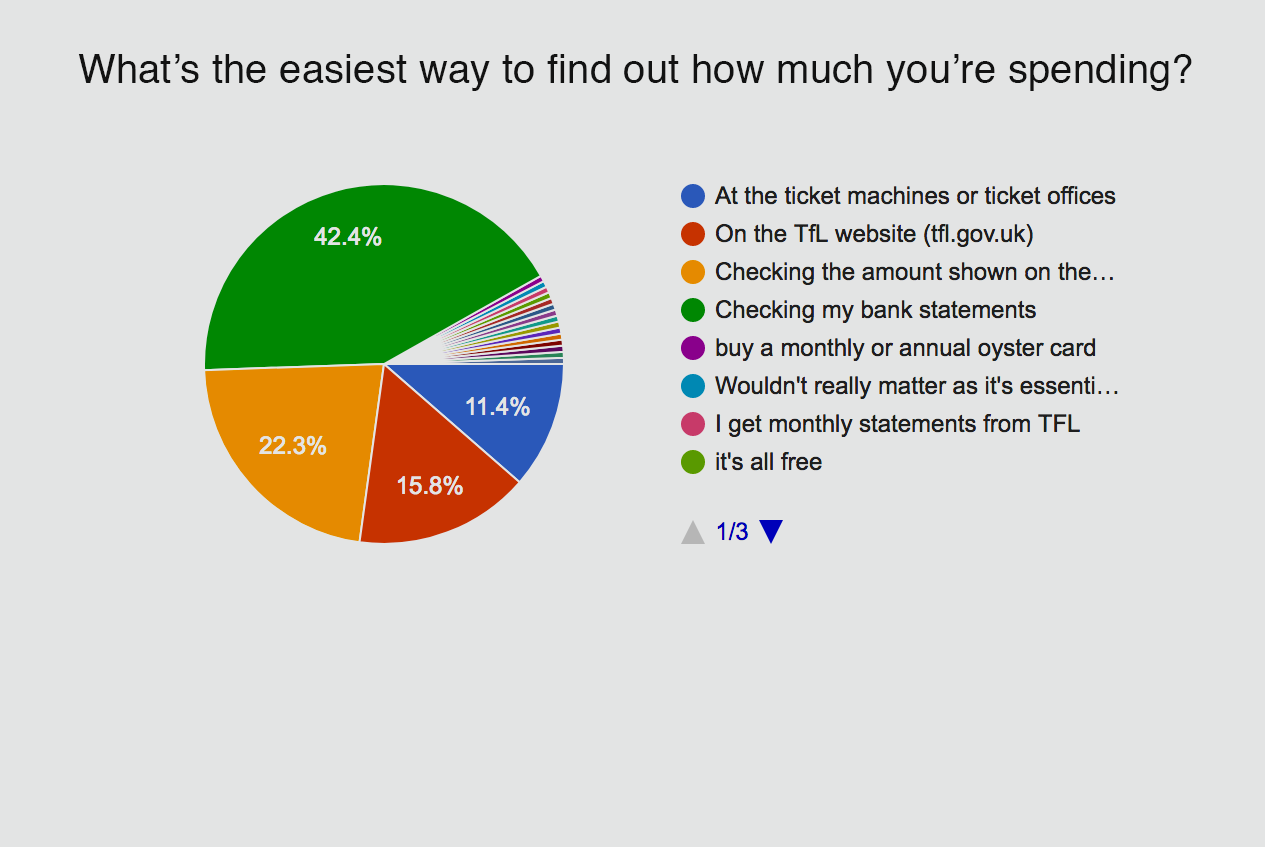 Of the 184 people who responded to the survey, 135 people felt that 'topping up in person at a ticket machine or office' was simpler than 'topping up online'. This was surprising because in order to get as many responses as possible, in a short space of time, I'd heavily shared the link to my survey through my personal networks - on Twitter and Facebook, in a post on LinkedIn and a mailing list for women working in tech - all made up of people with above average digital literacy.
Only just under a quarter of people said they knew how much they spent on travel in London and 'checking bank statements' was the most popular method (78 people) for finding out.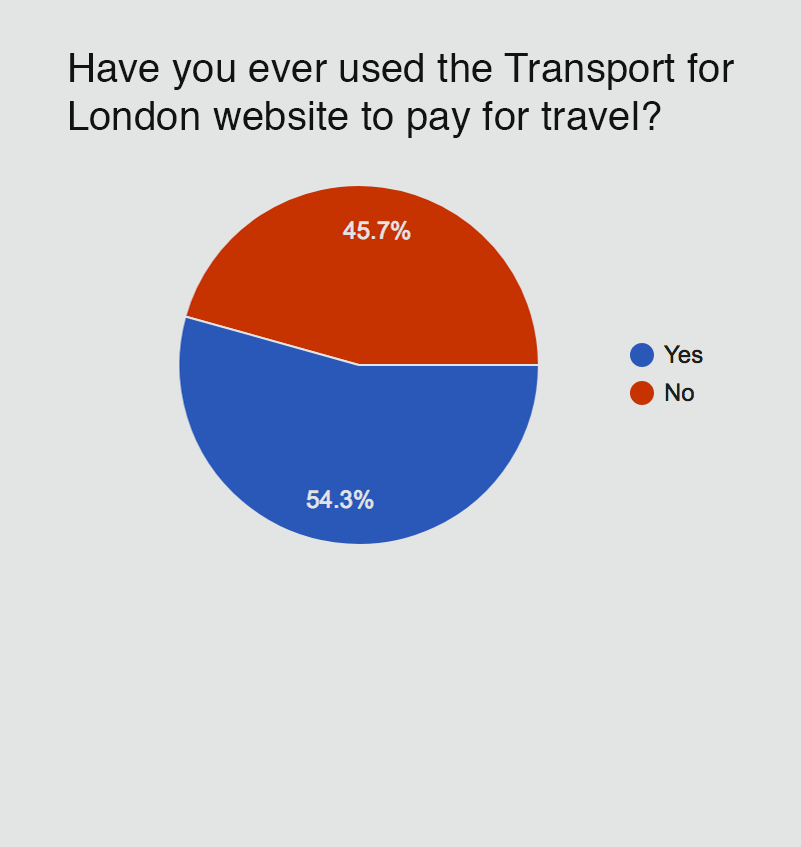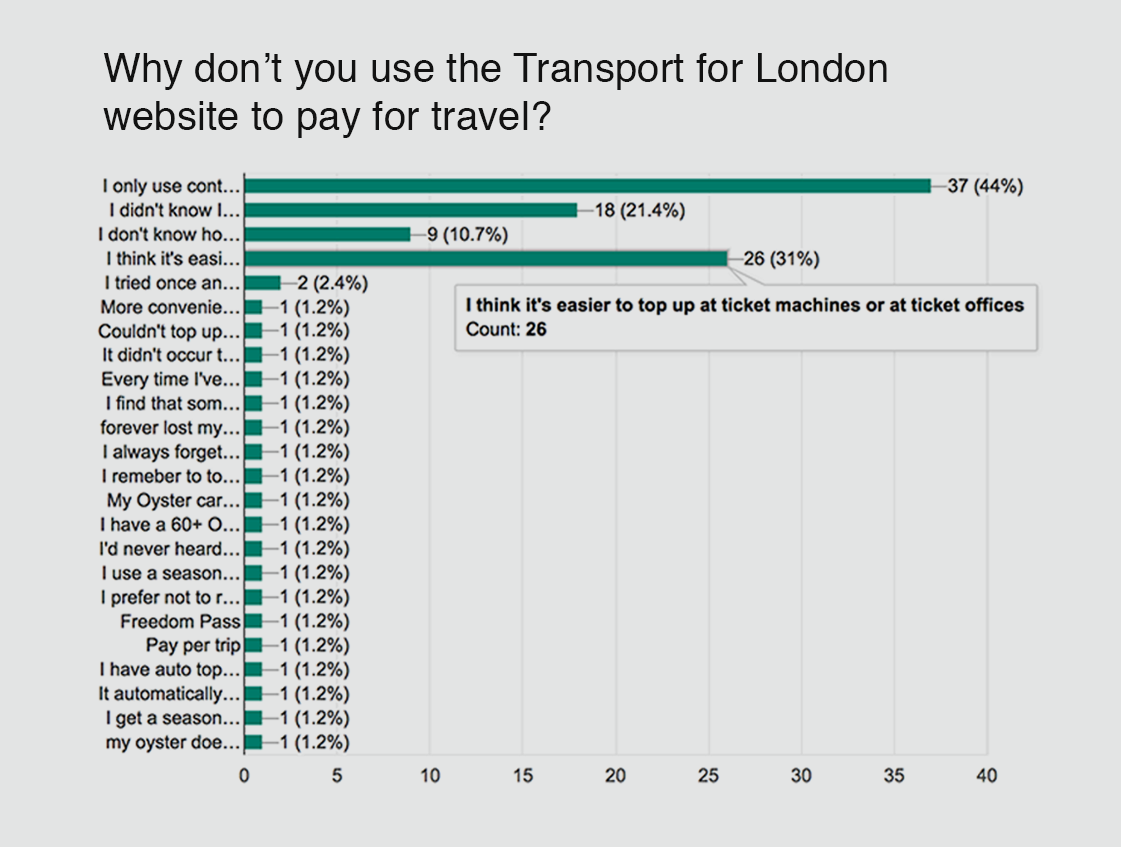 Of the 84 people who said they don't use the TfL website to pay for transport, 26 people (31%) said it was because they felt it was easier to top up at ticket machines or offices. 
But, since the closure of all ticket offices - adding to the length of queues at ticket machines - how can we easily know how much money we're spending on travel? Is trawling through our bank balance the only option and, even if it is, it won't be able to tell us if we're getting the best deal. 
To dig a bit more I followed up with some of the survey respondents and also did some field research in underground stations and at bus stops. I gathered a wealth of really useful insights from talking to people:
"It's [the TfL website] a pain to find things"
"It's [The TfL website] ok providing you don't have a particular problem otherwise you have to jump through hoops."
"There is something about the login to the Oyster account: I use it rarely and I always forget either my username or password - could that be due to the restrictions they impose on those fields? The majority of issues were probably before they reworked their system but I haven't used it much since as I switched to topping up at ticket machines."
"I rarely use the TfL website. I use Citymapper to go around and the ticket machine to pay."
"It's awful. Completely byzantine, with difficult to find information and outdated payment systems. I never use it."
"I had an issue once where I topped up online but I couldn't receive the amount on my Oyster card at the agreed station. Since then I haven't used it."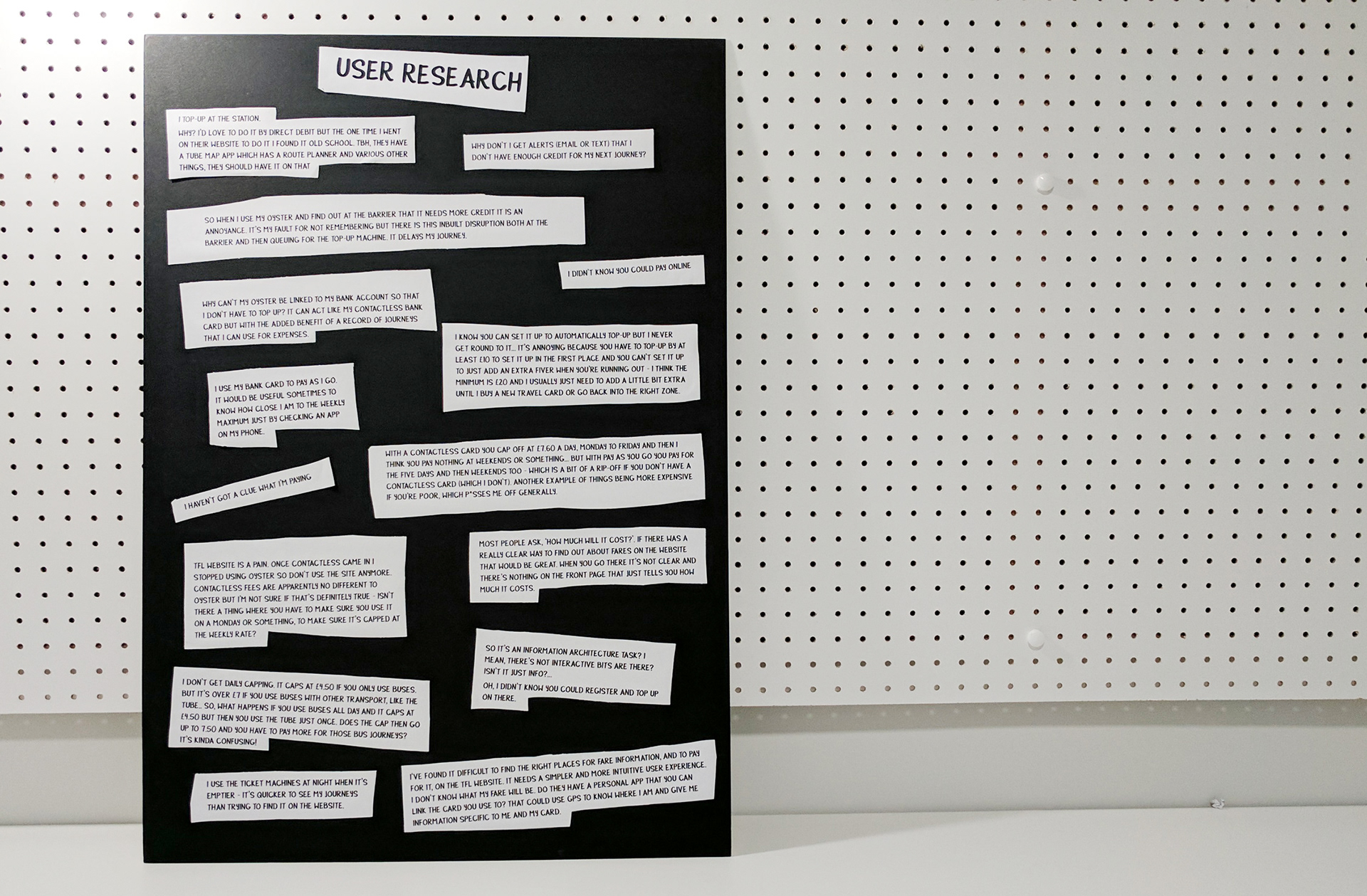 It wasn't all negative though. A lot of the people I spoke to, or who responded to the survey, had positive things to say about the Journey Planner tool on the TfL website:
"Journey planner is helpful"
"I mainly go on [to the TfL website] for journey planning."
"I use the site for travel updates, journey planning, scheduled maintenance work etc. If I had a regular and planned work travel schedule I would probably book tickets online but as a freelancer it's just easier to use contactless or oyster direct at the stations as I can never forward plan where I may need to go. I can check how much I'm spending with my bank's app."
"Journey planner and e-mail alerts for disruption very useful"
"The journey planner rocks"
​​​​​​​
Mapping the online user journey
The user research I undertook uncovered a host of issues with using the TfL website but, for the purposes of this exercise, I decided to narrow the focus to:
Using the TfL website to find out how much [I]
spend on public transport in London and what's the best deal for [me]
.
To help me take into account several different scenarios I developed a number of user personas (coming soon but, in the meantime,
you can see them here
) based on some of the people I'd spoken to in my research. I also mapped out the as-is user journey on the TfL website which looks like this...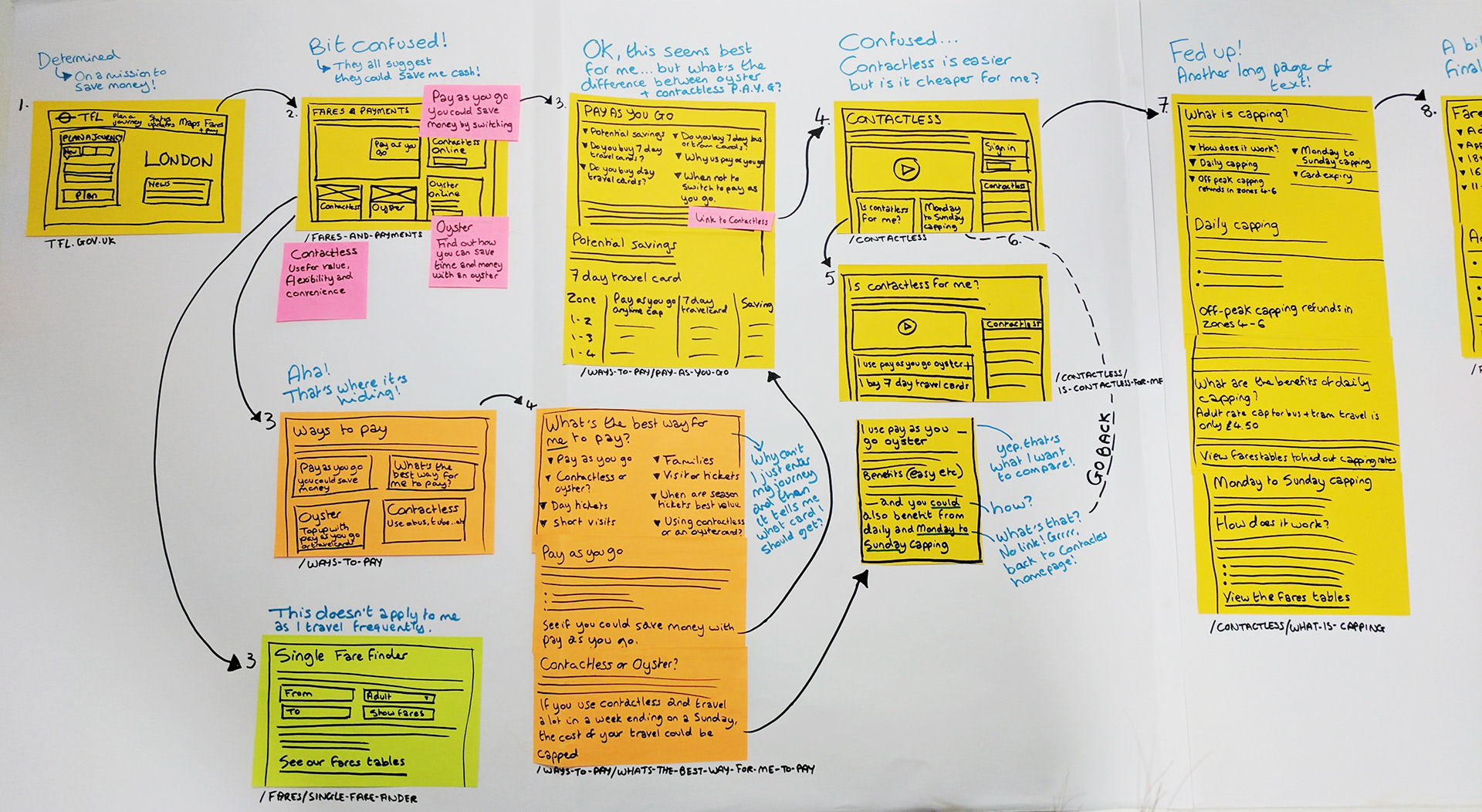 A long journey through several screens - many with confusing and unclear content - that eventually delivers users to a two page PDF containing a table of fares...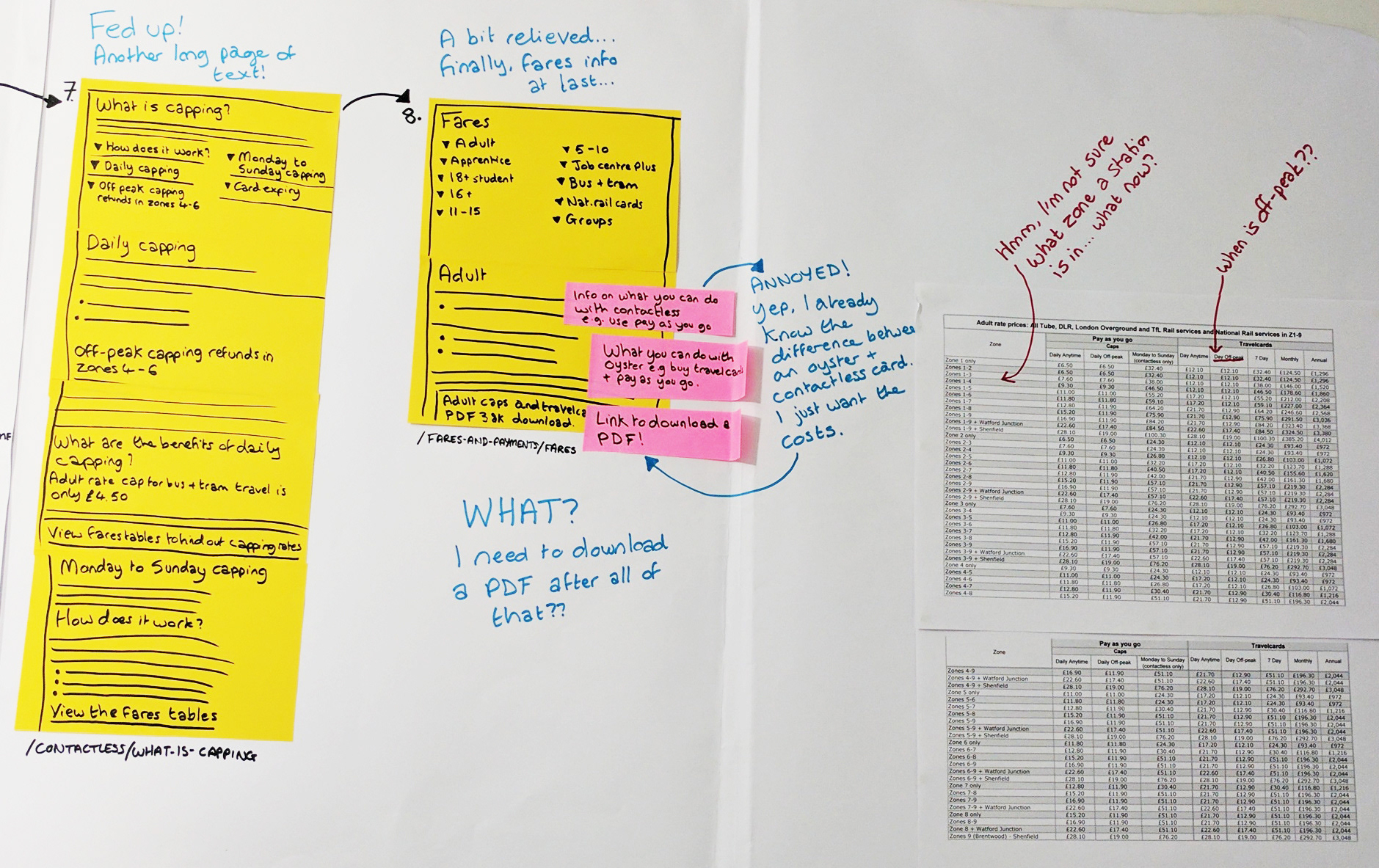 The 'poster versions' of this experience - which can be found in some underground station ticket halls - are a lot clearer and offer a degree of more personalised advice based on the station they adorn. They still contain quite a lot of information but with literally thousands of fare options (depending on zones, method of payment and transport, time of day, whether the customer is entitled to discounted fares - to name just a few) this is, to some extent, unavoidable in offline materials where the goal isn't purely to drive viewers online. 
Finding out exactly how much public transport in London is costing us isn't easy and forces people to jump through several hoops - so much so that using an external service to find this information out, such as checking bank statements, is seen as the easiest option by many. The poor experience users have had navigating the TfL website has also led a surprisingly high number of people to consider queuing at the ticket machines the preferable option for paying for their journeys.
As we head towards an even more cashless (not to mention online) society shouldn't we expect services, particularly core public services, to be as open as possible about how much they're costing us? Even if price transparency is only an issue as a result of one technological advance leap-frogging over another, shouldn't this core element of the service always be there? After all, if we look at a more traditional transactional service, such as nipping to the supermarket, would it be acceptable if none of the items on the shelf had a price tag or perhaps there was just one, huge price index listing the entire shop's products at the end of the aisle? 
While most of my recommendations, below, are about improving TfL's online experience for customers that want to find out how much they're spending and whether or not they can get a better deal (as that was the focus of this project and important considering the recent closure of all ticket offices) it is, of course, important that TfL continues to cater to everybody in our society and doesn't exclude those who are unable to use or access their digital channels.
- Build on the positive feedback about the Journey Planner tool and develop an online calculator that allows customers to enter their starting and ending destinations and be told how much it will cost them including cheaper alternative routes. Even better, add the price to Journey Planner results.

- Make it easier for Oyster card users to check balances and top-up online whilst on the move. Posters in stations could help with this by encouraging people to simply visit a url or, at a later date, download an app that allows users to simply scan the barcode on the their Oyster card in order to register it and start receiving notifications when their balance falls below a certain amount (and then top up in the app).

- Provide personalised recommendations, based on a customers prior travel behaviour, to show customers where they could save money e.g. switching to contactless or buying a different type of travel card.

- Improve the way-finding of pricing information across the TfL website - don't make customers dig around for it.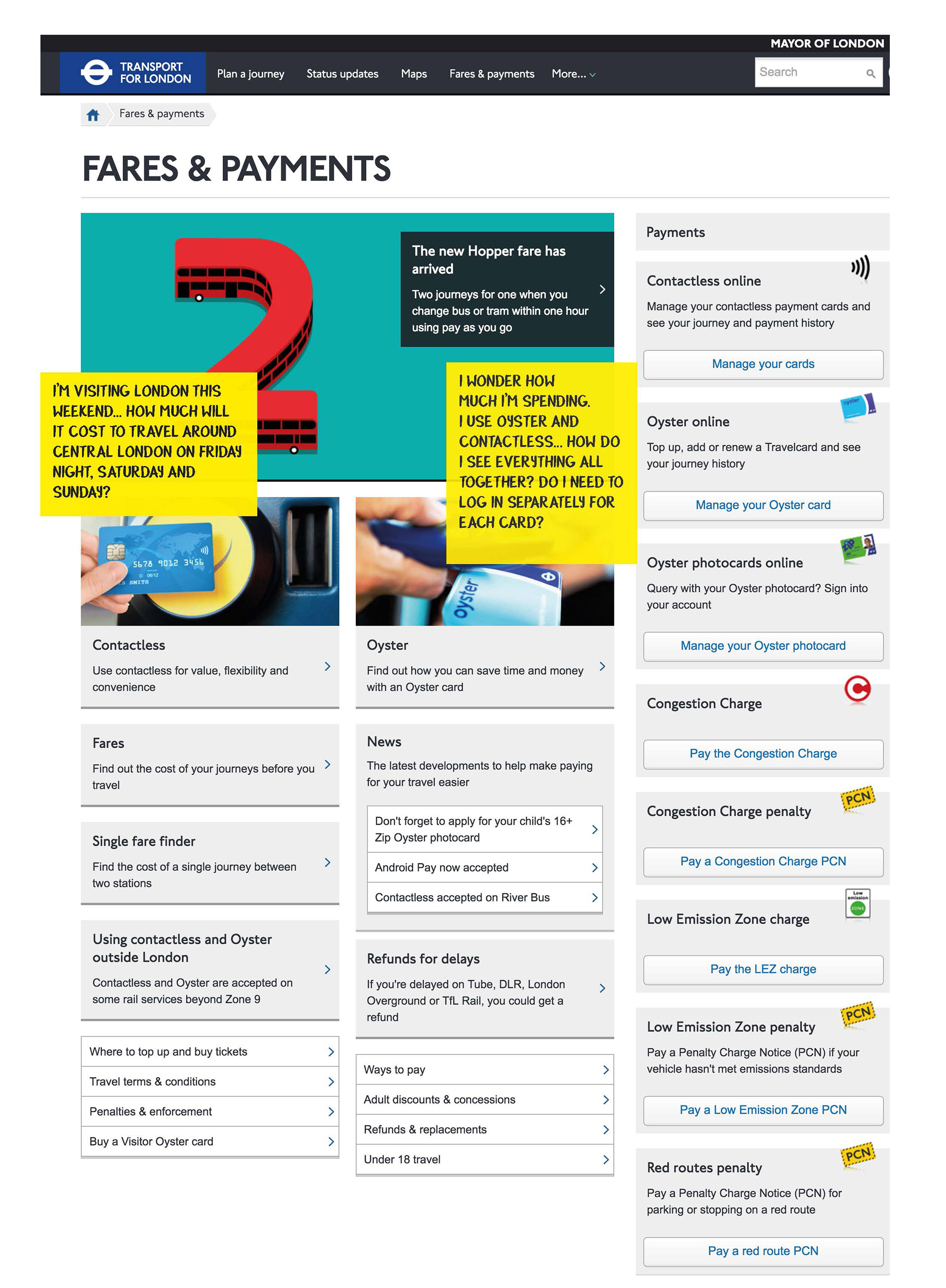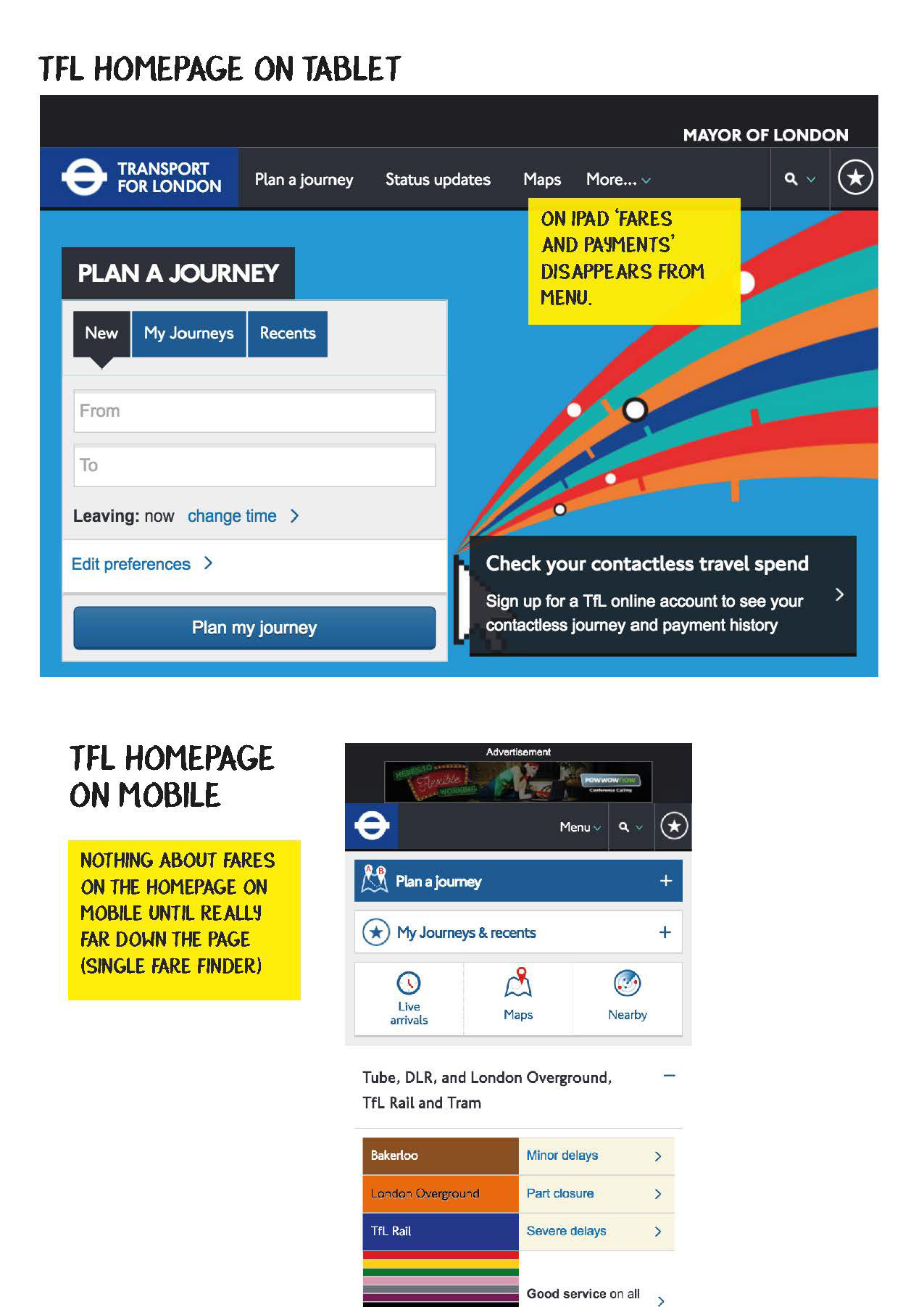 A cleaner layout - with more obvious calls to action to the payments area of the site - and new Journey Planner features...